Wayne & Koda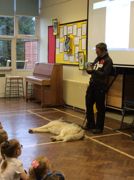 Wayne Dixon visited the school to speak to the children about the litter problem that affects not only our local community, but the whole nation and the rest of the world.

He has been walking the coastlines of the UK over the past 4 years and has collected tons of litter which would otherwise be a danger to pets, wildlife and environment.

He was inspired to begin his epic journey after his dog, Koda, cut his foot on a discarded drinks can. The injury cost him over £1000 in vet's fees and almost caused the dog to lose a leg.

The children have been encouraged to recycle used packaging at home and not to walk past litter in the streets, but to combat the problem one piece of litter at a time.

We would like to thank Wayne for his inspirational talk and wish him all the best as he continues his journey along the UK's eastern coastline.