Home communication
Purpose of the book
Within SLEP we have pupils in all year groups, across both sites, which means the SLEP team cannot be visible and available to all parents at drop off and collection times. Also some of our pupils come to school by taxi so we are unable to liaise with parents at drop off and pick at times. In order to support our children as best as we can, we have introduced a "Home/School Communication Book".
Within the book their are opportunities for you to share events from the night before / weekend so that we are aware of anything that may have happened that could in turn effect behaviour, concentration etc. In addition, you can also tell us about your child's "Star Moments" when they amaze you with their progress, no matter how small. All these small steps lead to huge leaps that our SLEP pupils continually make.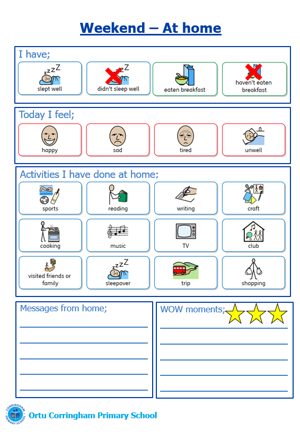 Within school, a member of staff will then complete a page for school, sharing events from their day and any 'wow' moments. We can also share reminders for PE kits, trip permission slips etc. For our children who find relaying this information more challenging, it gives care givers a starting point to facilitate these types of conversations more easily.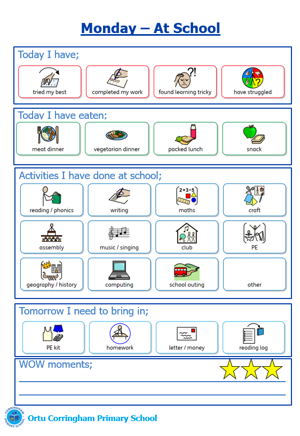 Staff will check these books every day so please ensure they are always in your child's book bag. Please also ensure you fill these in every night. Everything you write is important to us and we really appreciate your time in doing this.
These books are a starting point, we will always call you for a more detailed conversation and/or arrange a meeting if this is felt necessary.
An example of the EYFS home communication book can be found here.
An example of the KS1 home communication book can be found here.
An example of the KS2 home communication book can be found here.