Headteacher's Welcome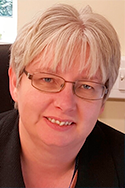 A Welcome from Mrs Lorna Hamilton
Welcome to Ortu Corringham Primary School. I joined the school as Head Teacher in March 2014 and I am delighted to be part of this school. Our school is located in the heart of Corringham and we are proud that our school reflects and celebrates our community which we have served since 1870.
We are a GOOD school and my vision is to give every child coming into our school an education they enjoy which prepares them for academic and personal success now and in the future. We are highly ambitious, passionate and determined to achieve success in every aspect of school life. All of our staff and Governors share this vision and work together to make sure this remains a reality. In November 2016 Ofsted inspected the school; we achieved 'GOOD' in every area and for Personal Development and Welfare of the children we achieved 'OUTSTANDING'.
Our children are our greatest asset and they achieve because of their attitude and commitment to learning. Our children are supported by our highly committed and passionate team.
We celebrate all our children's achievements from both in school and outside school activities. We have an excellent range of after school activities, which the children enjoy and value. Our school provides quality wrap around care from 7:15am to 6:15pm and provide school holiday club provision for school hours - this helps many of our working parents.
As a school we are very privileged to have such supportive parents. Our parents are involved in all aspects of school life including supporting learning at home and volunteering in school. Our PTA is wonderful they work really hard to ensure extra resources are available for our children and to help the school continue on its journey to be outstanding.
In September 2018 my role has expanded and I am now working across the Federation as well as at Corringham Primary.
Mrs Lorna Hamilton
Headteacher Ortu Corringham Primary School