The Teach Thurrock Primary Partnership was formed by 14 schools in the Thurrock area in 2012. Acknowledging that working together on a shared vision of Initial Teacher Training would produce outstanding teachers of the future, the headteachers devised an innovative training programme, in collaboration with the DFE's Schools Direct initiative.
The Partnership (validated by Institute of Education) is delivered by experienced lecturers at the university, by headteachers and outstanding teachers in the Partnership's purpose-built training room.
The training programme is supported by Dilkes Academy, which was awarded the prestigious status of National Teaching School in March 2013. This accreditation is given to outstanding schools, to provide a leading role in the training and professional development of teachers, support staff and headteachers. The Teaching School's Initial Teaching in Education programmes are delivered in partnership with the collaboration of primary schools and the IOE. In this capacity Dilkes Primary Teaching School manages the Initial Teacher Training Programme for Teach Thurrock. This unique research-based teaching approach ensures that our trainees are already working towards being outstanding teachers of the future and we already have 11 newly qualified teachers who are on their first steps towards this vision.
For more information: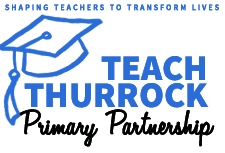 Teach Thurrock Primary Partnership