Goodbye & Hello
We say a fond fairwell and a massive 'Thank you' to Jess, Liz and Leigh after 3 fantastic years running our PTA and leading them to raise an amazing £58,000 for our school.
You will all be missed but we know you are wishing our new PTA team all the best as they begin their journey.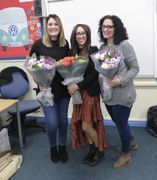 Say 'hello' to our new PTA team!
Claire - Chair Women, Eden - Vice Chair, Lisa - Treasurer and Vicki - Secretary
Welcome aboard ladies! We know you are going to be fab!